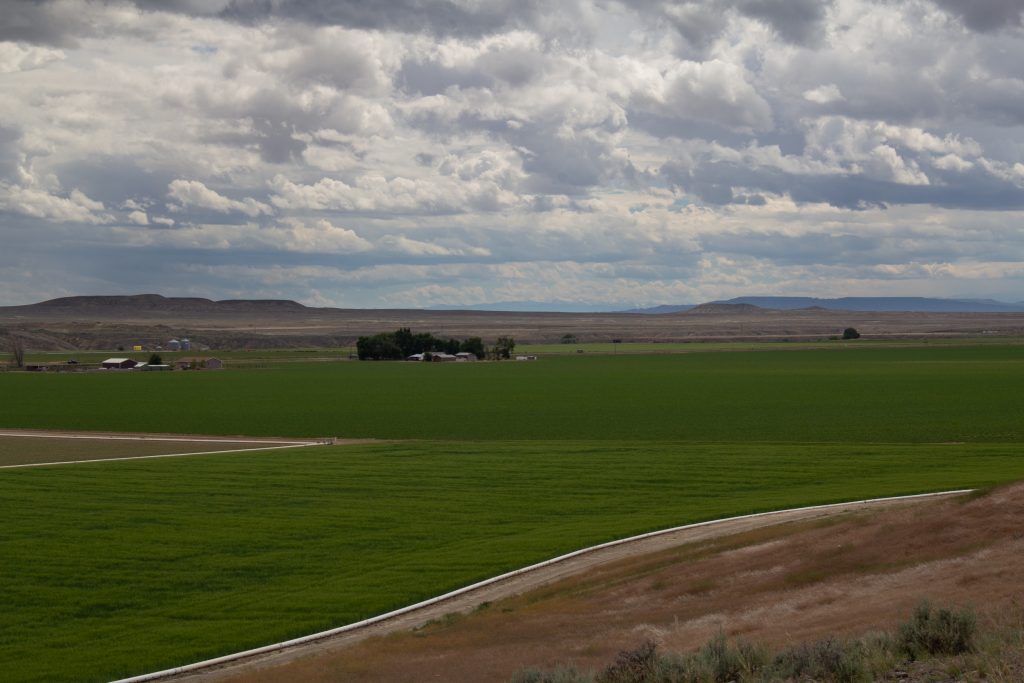 2323 HWY 20, GREYBULL – $3,000,000.
Executive Summary
This 1192 acre farm (894 acres irrigated) is an investment opportunity of a lifetime. Farms of this size rarely hit the market, and this is a piece of farm ground that has proved to be highly productive for many years now. Current ownership pieced together this property over the course of many years, and now it is on the market for the first time as a whole. The owners have worked rigorously to maximize the farming potential of this land, but with their headquarters located in a separate location, they never had the need for further infrastructure development. This would be a great opportunity for someone to come in and develop the land the way that they want to, with multiple agricultural enterprise potential. The property has two houses located on it, both of which are occupied. Both houses have electricity from Rocky Mountain Power, and there is power located at two other places on the farm. In an industry that is strongly driven by return on investment, this farm has everything a producer could look for in potential ROI.
Current Overview
This is a highly productive 1192 acres of farm ground, 894 of which is irrigated acreage. The property features two houses, and 14,000 bushels of grain storage between two bins. What makes this property unique is that the current owners pieced it together by acquiring 10 different deeds to form one chunk of nearly contiguous farm ground. Another unique feature of this property is the highway access year round, without ever having to cross property under different ownership. The current owners have used the property to grow a large variety of crops, which in 2017 included alfalfa seed, sugar beets, barley, and beans. All crops are irrigated with gated pipe, as well as aluminum tubes. Two year around water sources currently exist on the property; a creek on the southwest end of the property, and a spring in the northeast corner. The property is located approximately four miles west of Greybull, WY (population 1847), and about fifty miles east of Cody, WY on highway 14.
Climate
Average temperatures for Greybull, Wyoming include an average annual high temperature of 60 degrees Fahrenheit and an average annual low of 29 degrees. The average high temperature during the month of July (warmest month) is 90 degrees and the average low in January (coldest month) is 2 degrees. Average annual precipitation is 6.9 inches with an average annual snowfall of 20 inches.
Cropland
This farm boasts 894 acres of highly productive farm ground that has been under the supervision of the same operation for over 20 years. The owners have worked extensively with agronomists in order to maximize soil potential for the growth of sugar beets, alfalfa seed, beans, and barley. While the land also has the potential to excel in the growth of other crops such as corn, wheat, or even converted into irrigated grass pasture. There are two year around water supplies on the property, with the possibility for further water development. All irrigation water comes from a free flow water right out of Dry Creek into the Agrarian Canal, which has proved to be a sufficient amount of water to irrigate the farm to its potential over the years.
Facilities Inventory
The property has two houses located on it. One house is 1800 square feet with 3 bedrooms and 1 bath, built in 1950; the other is 1200 square feet also with 3 bedrooms and 1 bath, built in 1957. The farm also has two grain bins of 8,000 and 6,000 bushel capacities.
Equipment/Irrigation
The owner is willing to negotiate the sale of all of the irrigation equipment located on the farm. This includes all of the gated pipe and aluminum tubes, along with dams. Over the years the owners have acquired enough pipe, tubes, and dams to irrigate the whole property without having to move any of the said equipment. This means no hauling tubes when changing water, or having to move dams around. Outside of the gated pipe, the ranch is irrigated through the use of both dirt and concrete ditches.
Zoning
In the Big Horn County Land Use Plan, the farm falls under the General Rural usage designation. This allows for use as both residential and agricultural land, with any sale of land under this zoning regulation having to meet a minimum 35 acre requirement. All land use designations go through the Big Horn County Planning Board.
Alternative Uses
Aside from the current use as farm ground for cash crops, this property is full of opportunities for more diversified operations. While the current owner has always flood irrigated the property, the size and lay of the land would also make the instillation of pivot irrigation an attractive alternative. The property has no cross fences, and would be ideal for a feeder cattle type operation to come in and construct fences to their liking. Another option along the same lines, would be the opportunity to build some sort of grow yard for feeder cattle, and then have easy access to supply your own feed at very cost effective levels. Due to zoning regulations, subdividing the land is not currently an option, but parceling off pieces of ground greater than 35 acres could help a more immediate cash flow. With the property being located so close to town, and housing development already in the vicinity, this could be a very viable option. It's rare that a farm property of this size comes on the market in this area. This could be a great investment for someone looking to expand their business, or even start one from the ground up.

Land
1192 Acres
–893 +/- irrigated
Land Classification
–Mostly Agricultural Class III
Soil Type
–Mostly Sandy Loam
Crops
Present Use
–Alfalfa Seed, Barley, Sugar Beets, and Beans
Past Use
–Radish Seed, Corn
Potential Use
–Grass Pasture, Wheat
Water
Irrigation Source
–Free Flow water right from Dry Creek into Agrarian Canal
-$4000-4500 Annually
Other Water
–Two live water sources (1 spring, 1 Creek) flow 365.
Irrigation
–Flood Irrigated with gated pipe and aluminum tubes
-Dirt and concrete ditches
Infrastructure
Houses
–1950, 3 bed-1 bath, 1800 sq. ft.
-1957, 3 bed- 1 bath, 1200 sq. ft.
-Both have city water, power, and own septic
Utilities
–One house has electric heat averaging $280/mo
-One house has natural gas and electric averaging $121/mo
-City water averaging $73/mo/house
-Each house has own septic system
-Electricity through Rocky Mountain Power
-Electricity at four total locations on farm (one electric irrigation pump averaging $1800/yr)
Storage
–Two Grain Bins (6000 & 8000 bushel capacity)
-One 1040 sq. ft. Quonset
Other Notes
Fences
–No interior fences, barb wire exterior fence
Nearly Contiguous
–Property corners at one point, separating 324 acres
Access
–Property access Year around via Highway 20
Easements
–Property has several easements for gas pipeline, power line, and one private easement.